Duncan Center for Business Development

Do you or someone you know have an idea for a business?

Does that idea involve:
Research and Development
Assembly and Light Manufacturing
Advanced Technology
Services
Benefits of the Business Incubator Program

Network of Peers and Resources Assistance available from the Duncan Area Economic Development Foundation, Red River Technology Center, Cameron University & Other Local/State entities

Support that will Aid in Your Success
80% Success Rate for Businesses that Start in an Incubator (source: National Business Incubation Association)

Affordable Furnished Office Space Rates start at $161/month

Minimal Charges for Phone, Internet, Cleaning & Professional Services May Apply

Shared Services, Equipment & Meeting Space

Copier, Fax, Binder, Banner Printer, Conference Room, and MORE!

5 years Oklahoma business income tax abatement for tenants of a Certified Incubator with the potential for 10 years of abatement if 75% of sales are out of state (source: Oklahoma Tax Commission)

The goal of incubators is to get new businesses established and self sufficient enough to afford renting space in non-incubator facilities.

Getting Started - Download Forms
Duncan Center for Business Development - Application Form [PDF]
Corporate offices of the following companies are located at the Duncan Center for Business Development:
ECH Corp - electrical & telecommunications for government contracts
Raptor Oilfield Controls - Installs controls on oilfield trucks
Renegade Transport - Transports trailers all over the US and Canada
Philtek Solutions - Contract welding supplier
Shabby Chick Cleaners - all natural cleaning product manufacturer
Benefits of the Business Incubator Program

Why a New Business Incubator?

Artist Rendering of Proposed Business Incubator
During a downturn in the economy in 2006, DAEDF saw potential in a vacant property to create an environment that offered support to entrepreneurs and inventors to launch and grow their business in a controlled environment.
In 2008, DAEDF purchased the former Sooner Trailer building as a "test" incubator location to see if this idea would be successful in the community.
In 2009, DAEDF was certified as an official Business Incubator and has worked with a number of companies who have outgrown the incubator model to become a fully self sustainable business.
In 2013, DAEDF had the opportunity to sell one building to Wilco, a locally owned company and Wilco has graciously allowed DAEDF to rent space from them for the incubator, but the program has been successful and it is time to move to a permanent location better geared to start-up companies. The business community, specifically those starting out, need a new incubator that is more centrally located and large enough to house multiple tenants with a combination of office and shop space.
In 2016 DAEDF is proposing to build a new incubator to meet the needs of start-up companies and help existing companies. The proposed loation is adjacent to Red River Technology Center and Cameron University because of the resources and partnerships available. Both have students who may join an incubator tenant's workforce or may decide to start their own business. It would be easy and beneficial for incubator tenants to access the talent of both institutions for internships, assistance with prototypes, training, and professional staff assistance.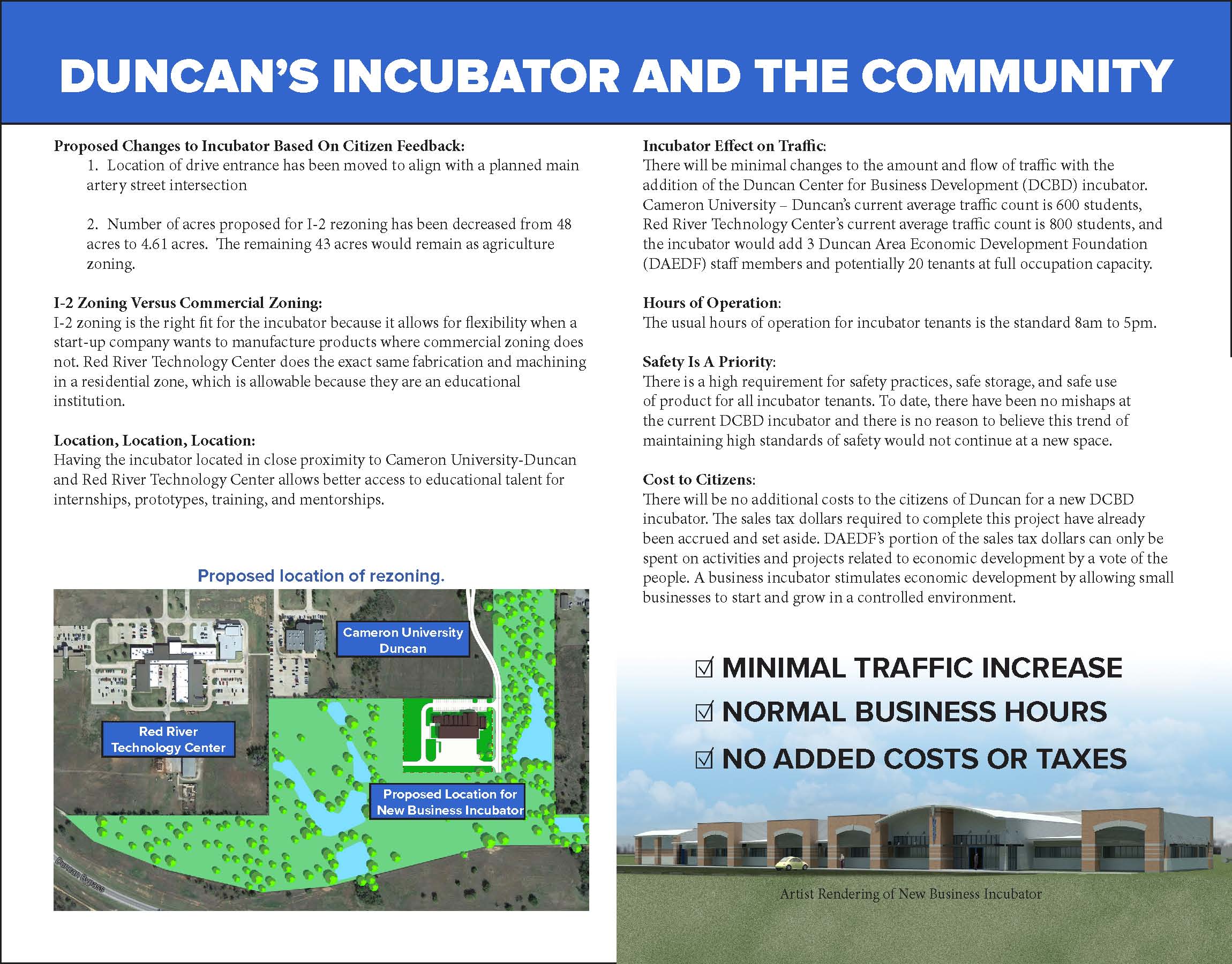 Download "Duncan's Incubator and the Community" PDF HERE